Easy Game Day Food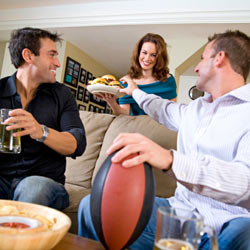 Fall is here and you know what that means: weekends full of football. In order to spend quality time with your boy or even your dad, you may need to hunker down and watch the passing of the pigskin, an activity infinitely more enjoyable if you have yummy snacks to munch on. Here, a few of our favorites: No utensils required! Game on!
Baked Brie and Pesto Dip
Move fast—this one will be gone in a flash!
¼ cup light white wine (pinot gris, sauvignon blanc, or Riesling)
1 cup (8 oz.) Brie, cut into small chunks
1 cup (8 oz.) cream cheese, smashed into pieces
¼ cup parmesan cheese, grated
3 tablespoons pesto
1. Preheat oven to 350 degrees. In a small baking dish, combine all of the ingredients and mix well.
2. Bake for 20–25 minutes or until texture is creamy and gooey.
3. Serve with sliced baguette and chopped veggies.
Spiced Pecans
Set out large bowls of these addictive nuts—they go great with beer!
2 teaspoons kosher salt
¼ teaspoon fresh ground pepper
½ teaspoon cayenne pepper
1 ½ teaspoons ground cinnamon
1 ½ tablespoons light brown sugar
5 cups pecan halves
4 tablespoons unsalted butter, melted
1. Preheat oven to 350. In a small bowl, combine salt, black pepper, cayenne, cinnamon, and brown sugar.
2. Spread pecans on a large, rimmed baking sheet and toast for 10 minutes until fragrant.
3. Transfer pecans to a large bowl and toss with butter. Add the spices and toss to coat.
4. Return the pecans to the baking sheet and toast for three to four minutes longer until fragrant. Let cool. The pecans can also be stored in a tight container and will keep for three days.
Italian Club Sandwiches
These sandwiches are perfect for munching. Make a lot of them—since they're cut so small you'll definitely want more than a couple.
6 slices of thin white bread
1 cup soft herbed cheese, like Boursin or Alourette
16 slices prosciutto
15 fresh arugula leaves
2 tomatoes, sliced thin
Salt and pepper
2 radishes
1. Spread four slices of bread with the herbed cheese.
2. Top each slice with prosciutto, arugula leaves, tomatoes, salt, and pepper.
3. Place two of the completed layers one on top of the other, making two stacks, two layers high. Top each stack with a third bread slice to make two triple-decker sandwiches.
4. Slice the radishes thinly and sprinkle with salt. Spear a couple of radish slices onto a toothpick.
5. Gently slice each sandwich into four equal parts and place a toothpick and radish into each sandwich. You'll have eight triple-decker square mini-sandwiches.
Creative tip: Vary your meat, cheese, and condiment choices according to taste!
Peanut Butter & Oatmeal Cookies
Something sweet to complete the Sunday food coma!
1 cup flour
½ teaspoon baking soda
½ teaspoon salt
½ teaspoon cinnamon
1 ½ sticks unsalted butter
½ cup sugar
¾ cup brown sugar
1 egg
1 ½ teaspoon vanilla
2 ½ cups quick-cooking oats
1 cup peanut butter chips
1. Preheat oven to 350. In a small bowl, combine flour, baking soda, salt, and cinnamon.
2. In a separate bowl, cream the butter with sugars until smooth. Add vanilla and egg and beat well.
3. Add dry ingredients to wet and mix. Stir in oats and peanut butter chips. Drop by rounded spoonfuls onto ungreased cookie sheets and bake for 11–13 minutes.
4. Cool for five minutes before removing to wire racks.