Eat Well For Less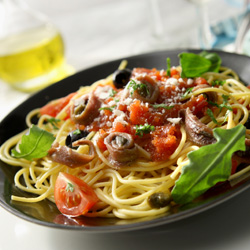 Love to eat, but don't like to spend an arm and a leg on food? Here are three recipes that are easy to make, are tasty, and don't require you to spend a bundle at the grocery store. Bonus? They are all packable and can be taken to work for lunch the next day.
Ratatouille
You saw the movie, now make the dish!
Ratatouille, a Mediterranean cooked vegetable dish, is great served over pasta, polenta, or rice. Or serve it as a side dish next to a grocery-store roasted chicken.
3 tablespoons extra virgin olive oil
1 garlic clove, coarsely chopped
2 large tomatoes (about 1 pound) halved and sliced into chunks
1 medium-size eggplant (look for glossy fresh ones) cut into 1-inch dice
½ pound zucchini sliced crosswise into 1-inch-thick slices
1 medium red pepper cut into 1-inch pieces
1 bay leaf
1 teaspoon dried mixed herbs
Salt and pepper
1. Heat olive oil in a large skillet. Add onion and cook over moderate heat until softened, about 5 minutes. Add garlic and cook for 1 minute.
2. Reduce heat to medium low and add tomatoes, eggplant, zucchini, pepper, herbs, and bay leaf. Season with salt and pepper and cover. Cook, stirring occasionally until vegetables are tender, about 1 hour.
3. Discard bay leaf and serve warm or at room temperature.
Quick Tomato Sauce
This easy tomato sauce is great over ravioli, tortellini, or just plain old pasta. If you have the freezer space, you can store portions of the sauce and defrost as needed for a quick meal after work.
1 (28-ounce) can of whole tomatoes
3 tablespoons extra virgin olive oil
½ cup finely chopped yellow onion
1 tablespoon minced garlic
1 bay leaf
Salt and pepper to taste
¼ cup drained, oil-packed sun-dried tomatoes, chopped
1 tablespoon finely chopped fresh oregano (okay to use dried oregano, too!)
1. Open the can of tomatoes and pour the juice from the can into a bowl. Using clean hands, squeeze the tomatoes into a pulp in a separate bowl.
2. Heat the olive oil in a large, heavy saucepan over medium-high heat until hot. Add the onion to the pan and cook, stirring occasionally until soft, about 2 minutes. Add the garlic and cook briefly until it is a light golden color. Add the tomato juice and bring to a boil. Simmer rapidly for several minutes. Add the crushed tomato pulp. Add the bay leaf, salt, and pepper, and return to a boil. Add the sun-dried tomatoes and stir.
3. Reduce the heat to medium and simmer, stirring occasionally to prevent scorching, until the mixture thickens and the tomatoes have turned bright red, about 30 minutes. Add the oregano halfway through the cooking and discard the bay leaf. Makes about 3½ cups sauce.
Spinach and Salami Frittata
A frittata is an Italian omelet that you make in the oven. Use this recipe as a template and add in whatever meats or vegetables you have on hand. Frittata is great for brunch or lunch, or you can serve it alongside a green salad for a light dinner.
6 large eggs
3 tablespoons freshly grated Parmesan cheese, divided
¼ teaspoon coarse kosher salt
¼ teaspoon freshly ground black pepper
3 tablespoons extra virgin olive oil
1 medium onion, thinly sliced
1 bunch spinach, cleaned and coarsely chopped (or use one 10-ounce prewashed bag)
2 ounces thinly sliced salami, cut into ½-inch pieces (about 2/3 cup)
1 garlic clove, minced
1. Preheat broiler. Whisk the eggs, 1 ½ tablespoon cheese, ¼ teaspoon salt and ¼ teaspoon pepper in a large bowl.
2. Heat olive oil in a medium-size, nonstick ovenproof pan or skillet on the stove over medium heat. Add onion and sauté until tender, about 6 minutes. Add spinach in three batches, tossing until the spinach begins to wilt before adding more. Sprinkle with salt and pepper. Sauté until any liquid in the pan evaporates. Increase heat to medium high, add salami and garlic to the pan, and stir for 1 minute. Add eggs to pan, stirring to distribute evenly. Reduce heat to medium low, cover, and cook until eggs are almost set but still moist in the center, about 4 minutes. Sprinkle the remaining 1½ tablespoons cheese over the top.
3. Transfer frittata to broiler and cook just until set in center and beginning to brown, about 1 minute. Using flexible spatula, loosen frittata around edges. Slide frittata out onto platter. Serve warm or at room temperature. Serves 4 as a main course.