Eat Well at Work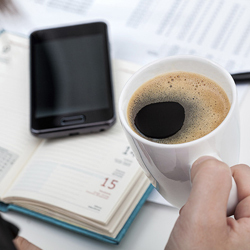 It's hard enough to find time to eat regular meals and snacks when you're chained to the desk or fighting your way through back-to-back meetings, but remembering to choose nutritious options in the midst of workplace stress can seem downright impossible. So how can you stay healthy when faced with dwindling lunch hours and few alternatives to the local greasy spoon? Holly Clegg, author of the Trim & Terrific cookbook series, has five easy tips for snacking at work.
Do the prep work. When your stomach's rumbling it's hard to focus on the best choices for your next meal or snack. Don't wait until it's too late to make these important decisions. "Nuts are very heart-healthy," says Clegg, "but it's easy to go overboard in calories, as a serving size is one ounce. Control portions by always having a snack premeasured into plastic bags." Another alternative is to mix in some cereal and dried fruit to create single servings of trail mix. Clegg also recommends low-fat yogurt with berries as a quick snack. And don't stop at snacks. With a little preplanning you can make a quick lunch out of last night's leftovers.
Eat early…and heartily. Set yourself up for the day with a balanced breakfast. "I love a large bowl of high-fiber cereal or oatmeal with berries in the morning—it will keep me full for hours," says Clegg. If you're in a hurry, grab a slice of whole-wheat toast, slather on some peanut butter, and pack a piece of fruit. "Breakfast is a great time to get in those important high-fiber whole grains that can lower cholesterol and reduce the risk of heart disease and some cancers." No time at home? Then keep a stash of your favorite breakfast foods at work so that you have no reason not to start the day out right.
Learn to love liquids. It's easy to focus on fuel and forget that our bodies need liquids for optimal performance as well. "Drink water, iced tea, hot tea, or coffee. Just make sure whatever you drink doesn't have calories," offers Clegg. "Liquid keeps you hydrated and makes you feel full." The same goes for soups, so turn to these hot options as a meal or snack. Eight glasses of water per day is the recommended minimum, but branching out and hydrating through a variety of options will help keep your palate interested. Finally, a good excuse for a coffee break!
Strive for five. When you were younger you probably heard that you needed to eat at least five fruits and vegetables per day. Today experts are advising on more like nine. Don't panic. "Raid a salad bar," advises Clegg. "And don't forget the seasonal fruit." Want to make your meal an even heavier hitter in the nutrition stakes? "Think of beans as the new crouton and toss them into everything from salads to pastas to soups," says Clegg. "Beans are a nutritional bargain."
Don't beat yourself up. When it comes right down to it, there will be times when you don't always make the right choice. Maybe you order that double cheeseburger for lunch or sneak a scoop or three of chocolate from the communal candy jar. It's easy to think about throwing it all in when you've made a mistake, but to Clegg's mind there's nothing to panic about. "Don't deprive yourself," she says. "If someone has birthday cake or brings homemade brownies, just have a small piece. It's when you keep eating the pieces that it becomes a problem." The same goes for your overall daily intake. "If you end up eating a bigger lunch, just eat less that evening. It is all about balance!"