Find a Mentor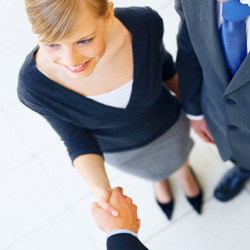 When I first heard my friend Rachel speak at a women's networking brunch, she seemed unattainably cool and accomplished—she had two books under her name and a killer résumé. Rachel had so much going for her that I wasn't sure if she'd want to chat with an aspiring writer, but I approached her anyway, attempting to strike up a conversation. To my surprise, she agreed to meet with me one-on-one, and before I knew it, we were brainstorming writing projects over dinner and swapping stories about our editors.
I'm pretty lucky to have someone to bounce ideas off and help keep my career on track, but there are countless other smart, successful women who would also make good mentors. Here's how to find them:
Get out there. Go to events in your industry and ask intelligent questions. Research the speaker or panelists in advance to see if they attended your alma mater or worked with one of your colleagues. This information can be a good icebreaker. Once you've started chatting them up, remember that your goal is not to tell them your life story or how much you're dying to work for their company. Just get permission to follow up, and let them move on, because there are countless others wanting to make a connection.
Don't limit yourself by industry. People in other fields can be helpful too. For example, if your goal is to open a spa, then a restaurant owner or a real estate agent might know what obstacles you'll face or where the high-traffic neighborhoods are. Regardless of their focus, successful people know how to navigate office politics and negotiate their salary, so they can help in those areas. Plus, you may want to switch careers someday and you'll have a head start by knowing people in many fields.

Think beyond your backyard. Just because you live in Phoenix and your role model is from Philly, don't be discouraged. You've got an e-mail account, don't you? You can get—and stay—in touch online. I've done this with several women I admire and all of them have been flattered, generously giving their advice and support over e-mail. Keep the conversation going by congratulating them on their new book release or e-mailing an interesting article they may not have seen.
Be appreciative. Most successful women are willing to help young women who have lots of potential, but mentors should also get something out of the relationship. Show your gratitude by sending a thank-you note when you land a new job or offer to pay for her coffee when you talk shop. Or ask if there's any way you can help her. You might recommend a great new restaurant for her client dinner or show her how to upload photos from her digital camera. It'll foster goodwill and show your mentor that she can call upon your expertise every once in a while, too.