How to Get Ready Fast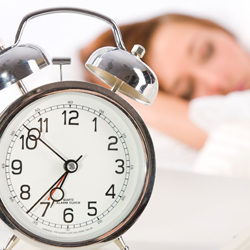 We all have those mornings when the alarm doesn't go off, or our response to its droning blare is to hit snooze eight times. Those are the days when it would probably be best if you just stayed in bed. As hard as you try, you still end up getting to the office late, with a bad case of bed head and a foul disposition. But ladies, it doesn't have to be this way. The next time you find yourself hitting snooze, take heart. With a few quick tips you'll still make it to your morning meeting in no time!
Use dry shampoo. Dry shampoo, the kind that comes in a spray, is a lifesaver for limp morning locks. These powder-based formulas help to soak up grease and usually add a pleasant scent while doing so. A quick spritz, a little fluff, and you're good to go. Light-haired ladies can even try a bit of baby powder if they're running short. Just remember that a little bit goes a long way.
Don a dress. There's nothing easier than slipping on a dress when you're in a hurry. No need to match colors or prints, no wondering if a top matches a bottom, and certainly no surprises that one half of what you planned to wear is currently out of commission. Not to mention a basic sheath in a dark or neutral color leaves you plenty of room to accessorize.
Add a bit of bling. A bright necklace or bold earrings will help create a focal point and add interest to an outfit, not to mention deflect attention from unwanted areas. Still worried that you didn't have time to straighten your hair? Keep the earrings small and use a necklace, bracelet, or ring to capture an errant gaze.
Brush on the blush. When there's no time for a full-on face, just grab your blush. Use it to brighten your cheeks, add interest to your eyelids and even stain your lips with an added drop of water. If you happen to have a clear gloss handy then you're in luck—use it to seal in your lip color and add a subtle shine to your lids. While you're at it, a dab on your brows will help keep those monsters in line too.
Feed your hunger. You're dressed and ready, but don't forget that breakfast is the most important meal of the day. There's no point in getting to work on time only to distract others with frightening stomach growls. Keep a supply of grab-and-go meals in the fridge—from cut fruit to smoothies to nutrition bars—and you can rest assured that you'll look great and feel great when you get down to business.