No One Is Hiring. Now What?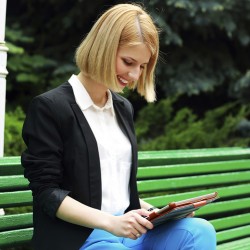 Know what you want—and what you don't. If you're a number cruncher with dreams of a future in finance, should you bag it all to become a pharmacist? Yes, if you want a job that involves math and working with people. No, if you have no interest in counting pills. Before straying from the field you had your heart set on, it's important to consider what your interests and passions are. Will moving to a field that is more reliable match well with your personality? Sure, there are sectors that are consistently stable (education, nursing), but if you hate children and faint at the sight of blood, are these really good options? You should also consider your long-term goals. If you've dreamed of working for a nonprofit, will you really be content with a career in the insurance biz? Before making a quick switch, it's important to do some serious soul-searching. After all, a sunken economy is ultimately fleeting, whereas your career is every day for the rest of your life.
Be willing to work for it. It's true—there are jobs out there, but the competition is fierce. Now is the time to up your game and work as hard as you can for every single lead. Network, practice interviewing, and make sure your résumé is flawless. Apply for every job you can find in the field or related to the field. Remember, there is no perfect job, but every job will teach you something. If you find yourself with a job offer that is below what you'd hoped or involves a ton of grunt work, try to look at the advantages of cutting your teeth in the industry as a hardworking employee with a positive attitude even when the job sucks.
Set up an informational interview. Request a chat session with someone you respect with a job you admire. Ask them for advice: Have they lived through a recession? How did changes in the field influence their career path? Do they think the industry is going to turn around soon, or is it going to be a long road to recovery? Listen carefully to what they say—no matter how brief, the advice could be valuable. Before you walk out the door, make sure they have your contact information, just in case.
Learn all you can. Scour the Internet for professional journals, associations, or clubs. Read everything you can get your hands on about the inner workings of the industry. Pay special attention to articles about things that are new or cutting-edge. A job in a random, up-and-coming sector could be the key to getting your foot in the door and eventually landing your dream job. Plus, reading the info that's written for the professional provides a helpful perspective. If you find yourself with a consistently wandering mind, maybe this field isn't actually for you. This is good to know before you invest too much in a job search.
Specialize in something challenging or obscure. Think about honing skills that will make you a more valuable employee: Learn software programs, improve your technical skills, or take continuing-ed classes at night. Not only will it keep you energized and help with networking, but furthering your education is a good way to guarantee that someday soon you will get a job in your field of dreams.
Follow your heart. Andrea decided that she really, really wanted to be a graphic designer, so she found a job doing design work for a real estate agency. It isn't the cool job she imagined, but she's getting lots of valuable experience. Maybe a job in fashion will be her next step. But most of all, after some serious research and soul-searching, she knows the hard work of breaking into the field is worth it.