How to Quit Your Job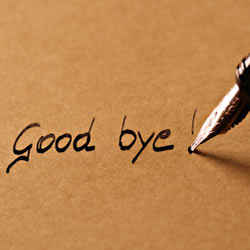 After working a dead-end job in an industry I didn't really want to be in—and doing so for an impossibly difficult boss—I decided to call it quits. It was the hardest decision I had ever made, but I knew it was best for my health and sanity. I dreaded the commute and worried myself sick on Sunday nights knowing Monday morning was just around the corner.
It was definitely time to go—but I didn't have another job to go to. Finally, too many tears and sleepless nights later, I handed in my notice. If you're in the situation I was in, you probably fantasize about quitting your job too. I say go ahead, but keep these things in mind before you do.
Really assess your situation. We've all had the dream where we win the lottery and go into work the next morning just for the pure enjoyment of shouting "I quit!" Since your chances of winning the lottery are slim, you need a Plan B. Look at your finances and figure out a deadline. If you can support yourself for two months without a steady income, then make two months your deadline for finding another job or at least something temporary to help you get by. (And really use that time to figure out what your next move is, rather than sleeping in and catching up on your favorite TV shows.) It may seem like you'll replace the stress of staying in a job you hate with the stress of trying to find a different job, but it's a good stress—one that'll motivate you rather than make you sick to your stomach on Sunday evening.
Own your decision. Finding the courage is half the battle. Talk to your closest friend or significant other about it. Contact people in your field, or in the industry you'd like to get into, and ask their advice on career moves. This is a great way to network and an even better way to motivate yourself to make the change. Once you decide when and how you'll leave your job, own it. Be confident in your choice even if you're not sure how it will turn out. This is your life, and only you can decide what will make it better. After telling others about your decision to leave, you'll get a lot of worried expressions and dissenting opinions. Thank them, and then disregard what they say. It's very easy for other people to tell you what you should do when they haven't experienced it for themselves.
Keep your eye on the prize. You've done the hard part—now what? Sometimes the scariest decisions in life turn out to be the most rewarding. Don't let all your anxiety and unhappiness be for nothing. Focus on finding a job you love rather than just getting out of a job you hate. Don't just apply to every job you think you could do. Instead, apply to the jobs you think you would like to do. Don't forget that making a living is very different to making a life. You deserve the chance to do both.