On-Ramping Advice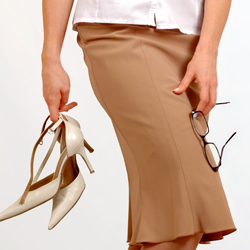 Are you thinking about leaving your job temporarily to raise children, become an entrepreneur, or deal with personal issues? If so, there are some things you need to consider.
Unfortunately, few companies have "on-ramping" programs that help people pick up where they left off when they decide to come back to work. Many women who leave to raise kids are forced to take lower positions than they had before, and are stuck having to prove themselves all over again. Use these tactics to ensure you're not one of them!
Before you go:
Don't say goodbye too soon. Many pregnant professional women aren't entirely sure whether they want to continue working or stay at home until after they've had the baby, according to Catherine Clifford, cofounder of Youronramp.com, a site for women who are transitioning careers. "Go back to work after your maternity leave and then tell them your decision, in order to protect your benefits," she advises.
Ask for your ideal schedule. Take time to think about all your options—working part-time, taking an extra year off, telecommuting, etc. Currently, there is a war for talent, so you may find that your employer is willing to be flexible if it means getting you to stay. "You have negotiating power," says Clifford. Use it to your advantage!
Update your résumé. Though you may not expect to be out of work longer than a year or two, things change. "A couple of years might turn into eight, and you'll need to be able to talk to potential employers about what you did way back when," says Clifford. Write down all of your significant accomplishments, skills, and projects, and ask for recommendation letters prior to leaving.
Don't burn bridges. The people who are your peers now will have moved up the ranks by the time you're looking to come back. They could serve as references, so make sure to leave on a positive note.
While you're out:
Stay connected. Meet with colleagues once a month and e-mail mentors regularly. Join a related association, read trade magazines and blogs, and go to events when possible. Clifford also recommends keeping tabs on who left your former company and where they went. All of these things will make it easier to find a job again later on.
Volunteer. To retain important skills and avoid big résumé gaps, consider volunteering in a related function. For example, if you'll be going back into financing, find some fundraising work.
When you're ready to come back:
Assess yourself. Your needs and interests may have changed during your time off, or you may have acquired new skills. Do a thorough self-assessment to make sure you're headed in the right direction. You may want to hire a career coach to help you determine your strengths and weaknesses. In-depth personality tests like Myers-Briggs are also a helpful tool.
Make a functional résumé. If your résumé is in chronological order, Catherine suggests switching to a functional format—which clusters your experience by skill (i.e., managerial, leadership, teamwork, etc.). This will help to downplay time off and make unrelated work more relevant. Also, if you've done any volunteering, you can include the transferable skills you used.
Don't oversell your situation. Never try to convince an interviewer that your decision to take time off was the right one. "You could be speaking with a mother who has a full-time nanny, someone who can't afford to stay home, or a man who believes women should be at home with their children," Clifford points out. Avoid the issue if possible, and if it comes up, say it was just the choice you made. Then present yourself as clear-minded and ready to get back to work.