What It's Really Like to Work at Fashion Week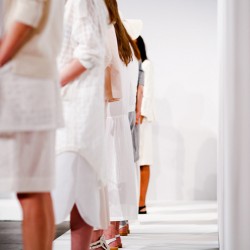 In an unexpected turn of events, I was given the opportunity to go backstage at three New York Fashion Week shows (Libertine, Marc by Marc Jacobs, and Erin Fetherston) to cover the hair and makeup for The Gloss. This makes me a low-level insider, so my experience went something like this:
I leave my regular job a bit early to head over to the Lincoln Center Pavilion, ask security guards for directions (twice), curse my fabulous, but painful shoe choice, approach the check-in table hesitantly, not knowing whether I should say my name, The Gloss, the PR rep I spoke to, or her agency, enter cautiously, trying not to get in the way, feel wildly intimidated by models, meet up with my PR connection, and finally, settle in to record interviews with the hair stylist, makeup artist, and nail artist. I snap some pictures of the models (who were mostly very obliging) and after about an hour I'm on my merry way. It was a taste certainly, and one that left me wanting more.
So I sat down with some much-more-insider insiders, who gave me the real scoop on working in fashion, beauty, PR, marketing, and social during fashion's most important and extravagant week.
PR: Lori Riviere, Owner and Founder of The Riviere Agency
Lori Riviere is a marketing and PR professional who founded her own agency and now deals with anywhere from three to seven clients each Fashion Week. The Riviere Agency does it all: front of house, back of house, producing shows, press parties, photo shoots, social media campaigns, you name it.
For a head honcho like Riviere, her Fashion Week was spent at the office coordinating until about three hours before the show when she went on site for the day's event. But the most difficult part of it all? Social media.
"I'd say [the most difficult part was] ensuring that all social media posts and post-event releases are disseminated to media outlets as quickly as possible after the show," Riviere said. "It's always a HUGE race to write a great release, coordinate with photographer to get images and video quickly, and then service to the media."
Fashion: Allison Ayers, Retail Sales Consultant at Burberry
During this NYFW, Ayers was focused on events based around the launch of Burberry's new fragrance, (with Cara Delevingne and Kate Moss as its faces). "We had major events in-stores and internally to really drive My Burberry as the company's new signature fragrance," she said. "These were cool events to attend because it was something tangible to celebrate in collaboration with Fashion Week."
According to Ayers, there is a distinct—and for her, positive—difference between working Fashion Week at a brand as opposed to an agency with many clients. "PR agencies deal with everyone during Fashion Week—designers, manufacturers, transporters, buyers, event planners, you name it," Ayers said. "They're responsible for the runway shows and how they're presented to clients, buyers and pop culture. Working at a specific brand has always been my niche though—you're able to embody the life and history of a company and exemplify your brand more thoroughly than just for Fashion Week."
So what's the biggest struggle about working at NYFW that no one talks about? "The people! There are so many interconnected relationships to keep up with," Ayers said. "There are meetings prior to FW, preparation, review meetings after FW, international and national communication, inter-departmental relationships, and most importantly, the relationships with the client. People want to see and experience these runway shows and pieces before anyone else. It's stressful to maintain the brand exposure on all different media platforms."
Most importantly, Ayers revealed her go-to Fashion Week outfit: jumpers. "You can't go wrong with a beautiful silk jumper in a neutral color," she said. "It's an every-occasion piece for work, meetings, the shows, after parties, promotional events, and you can run in it! A sophisticated navy sleeveless jumper, classic nude pumps, and a trendy textured clutch—boom, Fashion Week."
Social Media: Scarlett Stack, Social Media Strategist at Brandsway Creative
Since effective social media is obviously one of today's biggest #NYFW challenges, I had to speak to an expert. Scarlett Stack spent her Fashion Week managing her firm's online presence via Twitter and Instagram, as well as the Facebook, Twitter, and Instagram accounts for several clients.
"I was posting photos from presentations, runway shows, and our clients attending the Fashion Week events," she said. "My engagement strategy had more of a focused target as well. For example, on Instagram I would like all the photos posted from a particular event using GPS tags and hashtags."
"Until recently, Fashion Week was defined by the media; magazine editors, writers, and stylists," she noted. "Now thanks to social media, bloggers, 'it' girls, and creatives can present another side to fashion week. For example, it's the perfect opportunity to post photos of our models that are lesser known to get their faces out there. I took the opportunity to tag our models in all photos from runway shows they walked in. Overall, to capitalize on social media during fashion week, it's about acknowledging everyone—the designer, the location, and the party."
The time Scarlett didn't spend hashtagging ("Hashtags are your internet lifelines!"), she was escorting clients to and from shows and parties, a task that surprisingly wasn't dramatic. "Thankfully I have lovely clients and didn't have any crazy demands— just a mint or a mirror," she said.
Even still, Fashion Week took its toll. "The most difficult part of my job this week was balancing all my roles while still finding time for me," Scarlett said. "That didn't really happen. I barely slept. I forgot to eat."
Illustrator: Natalie Kim
There's so much happening at Fashion Week even beyond the designers, models, bloggers, stylists, makeup artists, PR teams, and legions of interns. That said, one of the most interesting perspectives I got came from Natalie Kim, a fantastic illustrator who was offered the opportunity to draw portraits on the streets of NYFW by Samsung in conjunction with Rebecca Minkoff.
She was set up in the Samsung booth at Lincoln Center, and for someone who had never attended Fashion Week and describes herself as "the last person to be there," the experience was not at all what she expected.
"People were obviously dressed beautifully, and they were really really nice," Kim said. "I imagined it would be with lots of annoying people, but it was such a great time. People were very appreciative of the drawings. I really enjoyed talking with people, drawing them, and seeing them get psyched when I handed them the picture."
Hey, maybe some Fashion Week stereotypes aren't true after all! Talking to these talented women, they certainly don't seem to be.