Sandals at Work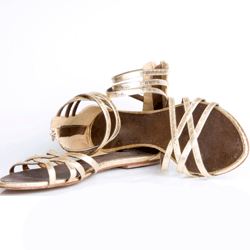 We all know flip-flops are a no-no in (most) professional workplaces, but what about gladiator sandals or patent-leather T-strap flats? Turns out these kicks can keep you cool and polished—if you know how to wear them. Here, a few tips.
If you're going to bare, take care. Schedule regular pedicures (meaning once or twice a month) to keep dry skin and gnarly toenails at bay. And make sure to pick an appropriate, subdued polish—bubble-gum pink doesn't exactly speak to your maturity.
Know the difference between weekend and work sandals. For roughing it at the beach, worn leather flip-flops are just fine. But in an office setting, you need to substitute a more elegant option for your favorite summer sandals. Bottom line: If you want to let your tootsies breath, trade up to delicate, strappy flat sandals, a classic T-strap heel, or espadrilles in a dressy fabric or shade.
Consider the timing. If you can wear jeans to your office on casual Friday, it's a safe bet that your favorite gladiator sandals—with or without the studded embellishments—are also office-appropriate. Just know that sandals aren't a good pick for every workday; no one wants to show up to a client meeting wearing a patent-leather sandal when their co-workers went dressy and wore closed-toe pumps. And never wear casual sandals with a suit.