How to Save Money in College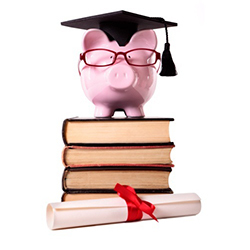 Being in school is overwhelming. The course load can be tough, leaving you with little time for a full-time job or any way to have a source of income. But with a little planning, there are ways to save money in college that won't leave you completely broke when it's over.
Buy used books.
Don't let a shiny new cover and new-book smell fool you — the information inside is the same as it is in the tattered copy you can get for half the price. Consider buying used books, which you can find in used bookstores on campus or online on sites like Amazon.com, eBay, Barnes & Noble or CampusBooks.com. To get books for free, borrow them from friends. If buying used books isn't an option, try checking them out from the library.
Budget early and often.
No matter how little money you have, you're never too broke to start budgeting and formulating a savings plan. Even if you can only save as little as $50 a month, you're still saving more than $500 over the course of the year. Use the free tools that are available to you, such as bill organizing service Manilla.com, which lets you manage all of your bills and accounts online or via mobile apps. Manilla sends you reminders when your bills are due and provides unlimited online document storage forever, for free.
Get a roommate.
Sometimes living alone is more ideal, but if you're trying to save money, getting a roommate is a great way to cut some costs from your monthly budget. You could save a few hundred dollars in your rent payment alone, and that doesn't include the savings in other living costs, such as cable, electricity and other utility bills.
Get a job with flexible hours.
It's not always easy to work while you're in school, but if you're able to land a part-time job that allows you to be flexible with your schedule, you've hit the jackpot! Working at a restaurant, for example, offers the ability to work before or after class and on the weekends. I waited tables for more than five years while I was in school. It started out a summer gig, then it turned into a part-time job during the school year, and then before I knew it, I was waiting tables during grad school, too. The money is great, the people are fun, and you can often switch shifts with your co-workers if something comes up.
Apply for scholarships and grants.
It's free money — take advantage of it! Most schools offer financial aid resources on campus or online, so leverage any opportunity to apply for a new scholarship. You can also check for scholarship options on free scholarship databases, such as Fastweb.com.