Self-Defense Tips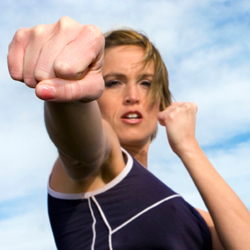 You probably don't need shocking statistics or gory descriptions to get the point: The world is not necessarily a safe place. Whether you live in a manic metropolis or a tiny town, the possibility that you could fall prey to a violent crime is a real one—especially when you're leaving work at a late hour and find yourself walking alone through a dark parking lot or street. Thankfully you don't need to be GI Jane to ward off a would-be assailant. Instead, some quick tips could help you keep your eyes open and on your toes to successfully avoid becoming a victim of an attack.
Hone your image. Start being aware of how you appear to the outside world. Always walk tall with a purposeful stride to show your confidence, and don't be afraid to make eye contact if someone is making you uncomfortable. If you suspect someone is following you, turning around will not only give you a better look but it may scare off anyone who might be tailing you. If not, doing so will give you more details about him or her in case you need to give a description later. If in doubt, such as when entering a dark parking garage, don't hesitate to ask for a security escort.
Shock them. If you think an attack may be imminent, don't be afraid to do something out of the ordinary to call attention to yourself. Yell "Fire," scream, blow a whistle, or set off a personal alarm, but go ahead and grab the spotlight. With all eyes on you, a possible attacker may think twice before trying anything. If you're truly too shy to do any of the above, consider walking up to someone to ask for directions, ducking into a corner store until you feel safe, or even lingering at a crowded bus stop until the threat passes.
Use what you have. Whether you love or loathe the NRA doesn't matter, a host of weapons are usually sitting right in your purse without you even knowing it. Pens, nail files, keys, umbrellas, hairspray, perfume—hell, even the purse itself—can all be used creatively in the event of an attack. Still feeling unprepared? Look around you for more items to add to your makeshift arsenal. Rocks, bottles, cutlery, and even a broken plate can be particularly tempting if you think you need to defend yourself. Also keep an eye out for exits if you're in an enclosed space, and make a mental note of pay phones or areas where you might get good cell reception should you need it.
Strike with sensitivity. If the worst does happen and you are physically attacked, remember that there are four ultra-sensitive parts of the body: the eyes, the knees, the throat, and (particularly on men) the groin. Do whatever you have to do, be it hit, kick, bite, pull, punch, gouge, or slap one of these areas to gain valuable time to get away. That's the last of worrying about sensitivity, though—when you're in safe place, call the police immediately by dialing 911. Report the incident, including as many details as possible. If you feel more comfortable speaking with a female officer or a bilingual officer, feel free to make this request. Most police departments will comply with your wishes if at all possible.