Shecky's 5 Women in Beauty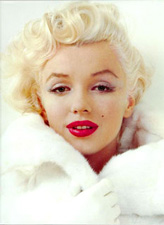 When we're rushing to get ready in the morning, fishing our eyeliner out of our makeup bags and trying our best to conceal the bags under our eyes, we often forget how grateful we are that these beauty products exist. Where would we be without facial moisturizer and berry-red lipstick? Hair serum and perfume? FOUNDATION?!
The world would be a less happy place for sure…and I would probably never leave my house. So, let's give a nod and shout THANK YOU to these five women in beauty—without whom we'd be completely lost.
Estee Lauder is probably one of the most recognizable names in beauty. Since she started her own company with her husband in 1946, it's gone from selling just a few lotions to representing 27 different brands of makeup! Popular names such as MAC Cosmetics, Clinique and Bobbi Brown are all part of the Estee Lauder, Inc. family—just to name a few. The parent company is also the first and largest corporate supporter of The Breast Cancer Research Foundation and Ms. Lauder's daughter in-law even created the signature BCRF ribbon.
If you've ever heard that natural-looking makeup is key, you can thank Bobbi Brown! Her approach to makeup has always been that women prefer to look and feel like themselves, just a slightly prettier and more confident version. Along with having her own makeup line, Bobbi also frequently shares her expert advice on talk shows and in magazines, reminding us that less is definitely more!
Another great and well-known beauty company is Mary Kay Inc., founded by Mary Kay Ash in the '60s. Known for their signature color pink (just like Shecky's!), their makeup and other beauty products are loved by women of all ages. The company also supports many different causes, such as women's cancer research and ending violence against women, plus creating jobs opps and bringing women together with their parties!
You may not know Madam C.J. Walker's name off the top of your head, but you should—since she's partially responsible for how great the hair looks on it. Back in the early 1900s, when many women were experiencing hair loss, Ms. Walker came up with her own solution that helped promote growth. Catering toward mostly African-American women, she developed a line of beauty and hair products called the Madam C.J. Walker Manufacturing Company. Her success also empowered other women to start their own businesses!
While Marilyn Monroe didn't exactly invent any products or start her own business, her image has surely impacted the beauty world in a major way. Women still look up to her as their icon—a sexy, beautiful blonde bombshell…who wasn't a size zero! We all channel Ms. Marilyn here and there when we want to look over-the-top hot.
-Samantha Sutton