Do it Yourself Spa Treatments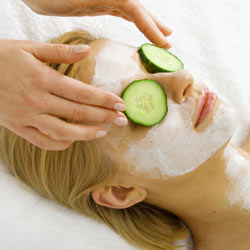 It's been a tough couple of days. An at-home facial sounds like just the ticket but unfortunately, you can't trust the crap-in-a-box at your neighborhood drugstore. There are enough chemicals on the back of the box to start WWIII.
But there are many ways to get your lovely face scrubbed and rubbed right in your kitchen. Here's how!
What You Want: To exfoliate.
What You Need: Fuji Apples or Papaya and Pineapples. Fuji apples have a rougher texture and contain malic acid—an alpha hydroxy acid that is great for exfoliation and hydration. Papaya and pineapple juice contain enzymes that give good face.
How to Apply: Slice the apples. Remove all the seeds and gently rub in a circular motion. When you are finished, squeeze the juice out and apply like a toner or splash. You can also dip a cloth in the Fuji juice and dab on your face for a more intense treatment. If you're using papayas, mix a little papaya with some pineapple juice and apply to your face.
What You Want: To defoliate and brighten your skin.
What You Need: Rice Flour. Rice flour is a wonderful defoliator and brightener all-in-one. It's great for reviving the skin after pulling an all-nighter. Use a cotton ball to apply lemon or grapefruit juice for added cleansing, exfoliating and brightening.
How to Apply: Mix rice flour with water and use as a morning cleanse.
What You Want: To get rid of breakouts and blackheads.
What You Need: Baking soda. Baking soda is great for softening blackheads.
How to Apply: Mix baking soda with water to create a runny consistency. Dip a piece of cloth in the solution and apply it to your face like a mummy. A hot mummy.
What You Want: To treat oily skin.
What You Need: Tomatoes.Tomatoes have antioxidant qualities that can prevent skin damage and help tighten pores, which helps reduce the likelihood of an acne breakout.
How to Apply: Slice tomatoes and lay them on your skin. If you tend to be a little inflamed, cold compresses are great to relieve the swelling of unsightly blemishes.
AT-HOME SPA RECIPE
Light a soy candle, grab Susan Boyle's newest single and rub-a-dub-dub your woes away. Here's a quick at-home recipe using chamomile—a very calming and powerful anti-inflammatory agent.
Cucumber and Aloe Vera Face and Eye Mask
Ingredients:
* Aloe Vera from the plant
* Cold cucumbers
* Chamomile tea bags
* Rose petals or lavender
Preparation: Steep the chamomile tea. Gently wet your face with a steaming washcloth soaked in rose petals, lavender or chamomile water. Slice the cucumber. Place cucumbers or chamomile tea bags in the freezer for five minutes. Apply this mask to face while lying down. Place aloe vera around the face, neck and eye area. Place sliced cold cucumbers around the face and over eyes. Let sit for 15 minutes. Wash face off with same steaming washcloth soaked in rose petals and lavender. Then add juice from steeped chamomile with a cotton ball for a great refreshing splash.