How to Stand Out at a Career Fair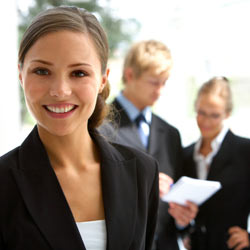 With only a handful of employers setting up booths—and hundreds of would-be applicants—the career fair can be completely overwhelming. But standing out at the job fair is possible, and easier than you think.
Dress up. While a career fair is not as formal as a one-on-one interview, it is your only chance to make a first impression. So throw on a suit. Doing so will not only make you visible, but it also lets employers know that you are serious about representing their company in the most professional way.
Have your paperwork in order. Make sure you have your résumé in your hand and ready to go when you approach employers' booths. Keep it to one page (print on the backside if you must), and don't stick it in the bottom of your bag. Not only will it be a wrinkled mess, but you don't want to have to go fumbling around for it when an employer asks for a copy.
Don't experiment with your look. Every so often, you may get the urge to try a new hairstyle, makeup routine, or perfume. Today is not that day. You want to look your most natural and actually do as little dolling up as possible. If you do wear makeup, try to keep it simple. The same rule goes for your hair. And don't wear perfume. Even if you think it smells great, it might overpower everyone else in the room. And you don't want your stench to be the reason you don't get the job.