Start a Money Group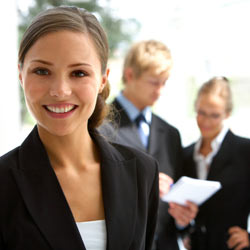 Send out the invites. Obviously, you want to pick women who have an interest in discussing financial matters. And yet, they needn't be experts on the topic; you're merely looking for 8 to 12 women who want to become more financially fit. You'll also want to ask different types of women to join—working women, stay-at-home moms, retirees, etc.—to give the group a broad experience base and plentiful learning opportunities. Last but not least, consider traits like dependability, punctuality, talkativeness, and availability when selecting your members to make sure the group will be successful and well attended.
Name the meeting place. Mutually decide on a good time and place to host the meetings (perhaps settle on the rotating hosting method favored by book groups). Ideally, you'll host the first couple of meetings yourself. To make the event more fun, have everyone bring a potluck dish, or snacks to go with a wine you'll be serving. Then settle in and call the meeting to order. On the agenda: picking a name for the group, nominating topics for the next few meetings, and selecting a host for future gatherings.
Set an agenda. If the group seems insecure about sharing their financial concerns out loud, make a list of topics by anonymously writing them down and dropping them all in a hat. Then draw the topics out one by one and discuss as a group the potential each has as a future program. You might also have a list of your own topics—ranging from creating a budget to investing in the stock market—in case the idea well runs dry.
Get the bills rolling. As the group's founder, take charge of the most popular topic and make that your next meeting's focus. You'll be in charge of creating an agenda, lining up any experts, and gathering material on the topic to share with the group. Experts might exist in your group—like a mom who's great at budgeting or a real estate agent who can walk the group through investing in a home. Or, you can ask local brokerage firms and financial planners to speak at your group should the need arise.
Be prepared. Above all, be well versed on the meeting's topic before your guests arrive. Once everyone is settled and has caught up, welcome them and introduce the topic and the expert who will be providing deeper insight. Make certain to leave time for a question-and-answer session with the expert. If appropriate, you might also make time for an activity; for example, if the topic is on slashing personal spending, you could provide supplies for everyone to design a spending tracker to take home. After all, the best thing about being part of a money group is the solutions it provides—and the more fun and informative it is getting to that point, the better.