Stylish Workout Gear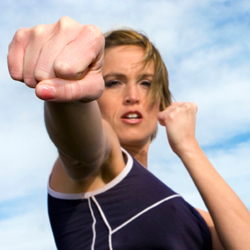 When we're trying to sweat our way to better health, few of us think of the clothes we wear. So we throw on ratty tees, or worse, midriff-baring tanks and head to the gym without a thought as to how our appearance might reflect upon our professional image.
Fortunately, a few companies have provided women with appropriate clothing lines to sport at the gym, allowing us to put our best face forward whether we're at work or at play. Try these popular lines on for size.
rykä
In 2008, rykä, a women-exclusive athletic footwear company, partnered with Kelly Ripa to create the Kelly Ripa Collection. The partnership launched with select footwear focused on female biomechanics and clothing that strengthened rykä's reputation as a company that makes simple, comfortable pieces with an eye toward style.
lululemon athletica
This yoga-inspired company was founded on the belief that great athletic apparel can help people live longer, healthier, and more fun lives. At the company's 100-plus locations, you'll find technically advanced, moisture-wicking pieces that don't sacrifice comfort or function to ensure you look good. And the pieces—from colorful sports-bra tanks to cropped yoga pants to hoodies—can transition outside the yoga studio as well. Runners, dancers, and Pilates disciples have all found good fits with lululemon products.
Lucy Activewear
This inspirational company helps women look good—and thus feel good—whether they're hitting the gym or hiking outdoors. From hot yoga shorts to half-zip tops, Lucy pieces offer a mix of high-tech fabrics and precise fits for a range of activities. And they do it with style, which means you can often rotate the pieces into your casual weekend wardrobe as well.