What Successful Women Eat for Lunch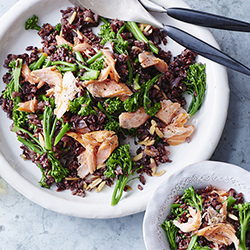 There are countless articles on what successful people do during lunch: recharge, take quiet time to themselves, run ten miles, all the things that sound great in theory, but you never actually do. But what do the super successful actually chow down on? Please be Chipotle please be Chipotle…
1. Anna Wintour
Anna Wintour is always my favorite subject of study when we're talking about big-time success because her habits just never disappoint. She turns off her (flip) phone every day during lunch and sits down to a power steak more often than not. I would love to know where it's from so I could taste what Anna Wintour tastes…too much? Yeah. (I do know she loves Balthazar though.)
2. Savannah Guthrie
Savannah Guthrie, on the other hand, told Bravo, "I usually grab a salad on the go. Not exactly a power lunch! Or gourmet!" She even referred to her normal spot as "the tasteless salad place." Celebrities: they're just like us!
3. Tina Bhojwani
Aspiring fashion mogul? Head over to ABC Kitchen and taste the roasted carrot and avocado salad, and you could be Theory's next Senior VP of International Development. Or not, but Tina Bhojwani does eat it all the time.
4. Molly Young
That same New York Times piece also highlights Warby Parker Contest Strategist Molly Young, who frequents Soho's Cafe Select for lunches that "have the veneer of healthiness, even if they're not actually healthy." Heard that sister.
5. Ivanka Trump
Ivanka Trump keeps it light and healthy for business lunches: "I have work-related lunches more than half the week, at the Four Seasons restaurant, Michael's New York, Casa Lever, or Cipriani. I order a chopped salad or salmon and vegetables."
6. Hillary Clinton
If you want to go way-too-in-depth into Hillary Clinton's lunch preferences, read this totally absurd two-page Slate article from 2008. What I took away from it was Boca burgers, lamb, and the fact that people are nuts about scrutinizing politicians.
7. Michelle Obama
Speaking of politicians, Michelle Obama's five-meals-a-day eating plan consists of breakfast, a snack, lunch, another snack, and dinner. Lunch is her biggest meal of the day, with things like fish and vegetables. "And if I'm going to have a carb, like a brown rice or a potato or something, I'll have it at lunch," she said. Another favorite is veggie pizza on whole wheat bread.
8. Caroline Ghosn
Ghosn admits that her lunches are pretty boring because they never vary. "It's very simple, I eat the same thing every day," Ghosn says. If you happen to be sharing your midday meal with her, you can expect either Jasmine or Basmati rice, grilled vegetables, and a clean protein.