What to Tip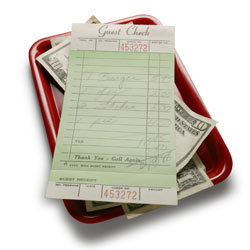 Many of us have experienced that pit-of-the-stomach feeling at a restaurant, spa, hotel, or airport when we receive a service small or large. It goes like this: Am I supposed to leave a tip? And if so, how much? No one wants to be a cheapskate, but no one wants to overpay, either. What's the right thing to do?
When I began researching this article, I was hoping to create a definitive, fail-safe, never-go-wrong guide to tipping. Unfortunately, this is impossible; there's a ton of variation—among etiquette experts and service providers alike—about how much to tip for even the most familiar services.
Appropriate tipping depends on a variety of factors, including where you live (tips are higher in bigger cities), how good the service is, and how difficult a person you are to serve (hey, there's nothing wrong with being high-maintenance as long as you pay for it!). As you read through the guidelines below, tip at the high end or extra if you've received above-and-beyond service, you've been a burden, or you are a frequent customer or client. Tip at the lower end if you live in a small town and never cause a fuss.
Who to Tip:
Restaurant server
15% to 20% of the total bill. According to the publishers of the Zagat Survey restaurant guides, the average tip in the U.S. is 18%.
Bartender
15% to 20%, or at least $1 for each drink.
Coat-check person
$1 to $2 per coat.
Food delivery
15%
Hairdresser
15% to 20%. It used to be that you did not tip if the salon owner cut your hair, but now it is common practice to tip the owner, too. If the salon messed up your service and you return for a redo (hey, who hasn't?), there is no need to tip again.
Shampoo or blow-dry person
$2 to $5, and it's best to hand the tip directly to the person and not to the cashier.
Manicurist
10% to 15%
Massage
10% to 20%. If the massage therapist comes to your home or hotel room, ask beforehand if the tip is included in the fee.
Taxi driver
10% to 15%. Add an extra $1 to $2 if the driver helps with your bags or makes extra stops.
Car service/limo driver
15% to 20%. Also add extra for bags or stops.
Skycap at airport
$1 per bag if you check in curbside; $2 per bag if the skycap takes your bags right up to the counter. If you arrive late and the skycap gallantly rushes you through to make your flight, tip an extra $5 to $20.
Hotel bellhop
$1 per bag for bringing luggage to your room (but a $2 minimum if you have just one bag).
Hotel housekeeper
$2 to $5 per night (more if you're a total slob). Maids often rotate, so tip daily.
Room service
If gratuity is included on your bill, add nothing. If not, tip 15% to 20% of the total charge.
Who Not to Tip:
In the following situations, a tip is not required, although special circumstances are noted.
Makeup counter
Makeup counter staff generally work on commission, so buy something and recommend good makeup artists to your girlfriends.
Cable guy
If you feel the need to do something, offer a coffee or cold drink.
UPS/FedEx delivery person
Drivers generally will not accept tips.

Open bar
If you're a guest at an open-bar event, there's no need to tip. The host is responsible for tipping.
Other common services where tipping is not required:
Appliance repairmen or installers (telephone, Internet, security, cable, etc.)
Car mechanic
Carpet cleaner
Electrician or plumber
House painter
Personal shopper or salesperson at a department store
Physical therapist
Piano tuner
Tailor or seamstress
And finally, what about those tip jars you see on pretty much every counter? "The level of service a counter employee provides doesn't require a tip," is the official word from Peggy Post, head of the Emily Post Institute. Sorry, Starbucks.
Note: Information in this article was compiled from Tipping.org, Findalink.net, PeggyPost.com, RealSimple.com, and Oprah.com.