The Value of Face Time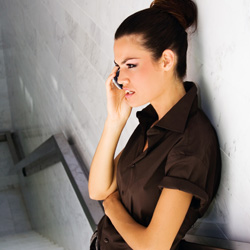 Ten years ago, there was just one rule about face time at the office: If you want to get ahead, come early and stay late. These days, wireless communication, global offices, and telecommuting as an acceptable practice have changed the way we work. One recent study put the number of people in the U.S. who work remotely at least occasionally at 33.7 million and growing. So is face time still important? Yes, but in new and more complex ways. Here, advice on when (and how) to show up.
Keep your schedule transparent. If you work from home part of the time, your schedule should stay fairly fixed. Tell your manager where you'll be when, and post a note on your office door listing your hours. Bottom line: Never make anyone ask, "Hey, where's Sara?"
Grab the low-hanging fruit. If you've got a light afternoon and can easily make it to an in-person meeting, do it. Or, if your evening plans include only your bunny slippers and your cat, hang at the office till 6:45 to outlast the boss. Doesn't hurt to earn some points!
Be truly accessible remotely. When you're not physically in the office during business hours, be visible on IM, speak up on conference calls, and send e-mails early in the morning or late in the evening. If necessary, invest in a BlackBerry or another technology solution that will help you stay in touch.
Agree on performance metrics with your boss. The Telework Exchange cites performance metrics as key to assuaging any fears your manager may have about your performance when you're remote. These could include project schedules, key milestones, or regular project reviews, with some of this taking place in person.
Stay professional. When you are in the office or meeting a client in person, break out that stylish business attire. Also, don't let your communication get too informal at home. (No TV noise in the background!) Use both face time and remote communication strategically, and your dreams of conducting a successful career on your own schedule might just be within reach.