What to Wear on New Year's Eve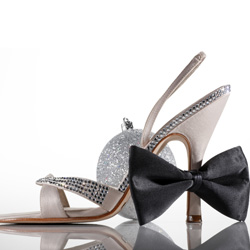 Though you're dying to debut a new look for New Year's Eve, that sexy designer dress—not to mention new shoes to match—will push you far over your monthly budget. The more frugal but equally fun solution this year is to work with what you've got. Start by selecting a classic piece from your well-loved work wardrobe. Then dress it up for your New Year's Eve fete with party-perfect accessories. (What you don't have on hand already, you'll easily be able to buy at stores that won't break the bank.)
The A-Line Skirt
Bright punches of color can transform a drab, conference-room-appropriate pencil skirt into the base of a perfect party outfit. For a work party or an evening out on the town, pair it with a soft lined cashmere sweater or billowy blouse. Opaque tights and jewel-toned satin heels complete the look.
The Work Trouser
Contrast the slouchy appeal of your favorite dress trousers or dark trouser jeans with a snug and sexy sequined tank. Give the look a bit of height by pulling on a pair of extra-high heels from your closet. Bonus points if they've got a great pattern or are a fun holiday hue, like siren red.
The Button-Up Shirt
Slip a dark tuxedo-style vest over your basic white tailored button-up, and then accent the combination's deep V-neck with a shiny, multi-strand necklace. For good measure, wear your dark denim or black skinny jeans with trendy T-strap heels.
The Sweater Set
Don't even think about wearing this combination together to a party. Instead, toss the tank aside and offset the sweater with a lacy, texture-rich camisole. Add a bit of glam with a jeweled brooch to create an offbeat, asymmetrical closure. It creates a look far more interesting and "thrown together" than if you'd simply buttoned that sweater up. Pair with your best jeans and favorite footwear—nothing improves a look more than wearing the pieces that make you look and feel your best.
The Wrap Dress
A basic black wrap dress has great, clingy lines, so it's already party-appropriate. To create a look even more suited for a New Year's Eve out, slip on chandelier-style earrings, deep purple opaque tights, and a chunky cocktail ring. And don't forget to trade that hefty work tote for a sleek, satin clutch before you head off to party.