Winter Wardrobe Essentials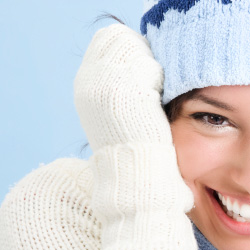 Just because it's snowing out doesn't mean you need to lose your sense of style. Yes, you'll need to forgo your suede heels on days when it's super-slushy out, but there are plenty of cold-weather choices out there. We scoured the racks of ski jackets and snow boots to come up with the chicest choices for you. Whoever said bundling up couldn't be beautiful?
Can't-Miss Coat: The secret to looking proportioned and keeping warm in a puffy winter coat is to go with a belted style. The layers of down feathers shield you from the harsh temperatures, while a belt will keep you from looking like a snowman.
Durable Boots: Your heels will never make it once the sidewalks get slippery. Don't take any chances and invest in a great pair of rubber boats. For more style, opt for a patent look. Not only are they warm, but they're totally chic!
For Your Ears: Bring back the earmuffs! They double as a fun style statement and a winter necessity. Try a faux fur pair for a look that will fit right in with the rest of your work wardrobe.
Hip Hat: When the snow starts to really fall, you can't avoid wearing a hat, so have fun with it! Snowstorms bring out the kid in all of us, so don a pom-pom hat that covers your ears. Opt for a cashmere blend for comfort and warmth.
Mitten Madness: Nothing says cozy like a pair of leather gloves. But sometimes you need your fingers —like when you're texting your beau or your boss—so opt for a pair of smart gloves, which will allow your digits to text with your smartphone and stay warm.
Put On a Scarf: Some days the winter wind is so blustery, you wish you had a cover for your face. A chunky infinity scarf is the next best thing (and is infinitely more stylish). Look for luxe fabric that will keep your face from freezing and will feel cozy wrapped around your neck.